2 minutes reading time
(472 words)
No Bake Gluten Free Oatmeal Bars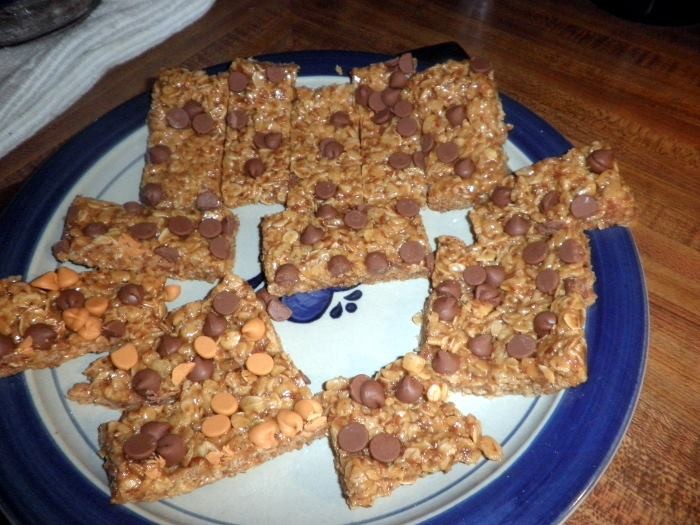 Easy Chocolate Chip Gluten Free Oatmeal Bars
This no bake recipe is a kid favorite. Please keep in mind that some Celiacs have reactions to oats. Also, it's important to note where your gluten free oats come from. Some companies will use a 'sorting' process to 'remove' gluten containing grains, other companies take extra care and testing, which I would consider to be a safer option. I personally use Bob's Red Mill Gluten Free Oats.
---
Note:
Quick or Instant Oats will result in a different consistency, possibly very gooey.

Feel free to get creative with toppings & add-ins like dried fruit & nuts.

1 cup creamy peanut butter (or any other nut butter of your choice - check ingredients for soy to keep this soy-free)
3/4 cup honey
3 cups certified gluten free rolled oats
1 tsp cinnamon (I love cinnamon, if you don't you can omit or use 1/2 tsp)
1/2 tsp sea salt
3/4 cup chocolate chips - use Enjoy Life brand for a dairy free option or omit
---
Line the bottom of a baking pan with parchment paper You can use a 9" x 9" pan or even a cake pan that's 9" x 11", which is what I use the most.
Mix together peanut butter and honey. You can heat slightly on the stove if needed, just be careful not to burn it. I usually don't need to.
In a separate bowl, stir together your dry ingredients. Add peanut butter honey and mix well to saturate oats. If you heated your mixture, be sure it cools enough before adding chocolate chips or they will melt. You can even use your hands for this part, which is fun if you have kids around to help!
Spread into your prepared pan and press down. I like to use a small roller that fits in my pan perfectly, the side/bottom of a smooth cup would work well too. If your bars seem to sticky to press, you can add a layer of parchment paper on top or lightly oil your fingers.
Place your bars into the refrigerator to set and allow the oats to absorb the moisture from the honey nut butter. You'll want to leave them for at least an hour, longer if you can stand to wait.
Carefully use a sharp knife to cut into bars or squares. Enjoy!

---
Store extras in an airtight container in the refrigerator. I usually keep them for a week, if they last that long.
Recipe Attributes
Shellfish Free
Egg Free
Soy Free
Dairy Free
Stay Informed
When you subscribe to the blog, we will send you an e-mail when there are new updates on the site so you wouldn't miss them.
By accepting you will be accessing a service provided by a third-party external to https://celiacsocial.com/
Are You a Recipe Blogger?
When you contribute gluten-free recipes to CeliacSocial.com, you can get more traffic to your blog & make money!